Our Story
The Citrine Circle was born out of a lifelong passion for crystals and minerals by husband and wife team Emma and Stu. We know that not everyone is lucky enough to have a local crystal and rock shop, so we opened an Etsy Shop at the start of 2018, with a focus on customer service, and honest and accurate selling so you know that what you see is exactly what you will receive.
We're a little bit different from most other crystal shops as we also love to go and mine our own crystals whenever possible - we've been to the Herkimer mines in New York, dug Obsidian in California, dug at the Oregon Sunstone Mines in Oregon and the Opal Mines in Nevada to name a few.
Although we personally have more of a focus on the geological side of crystals, everyone who loves them for any reason is welcome in our online community - we have people from all over the world who are interested in crystals for all sorts of different reason.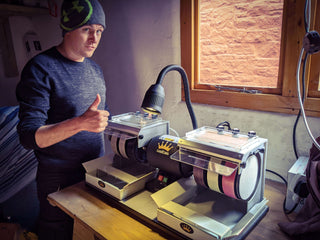 hand polishing
Cutting and polishing is a newer passion in the last couple of years, and Stu in particular has been creating gorgeous one of a kind pieces that are always popular!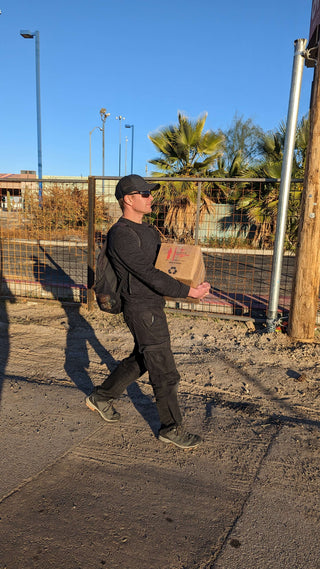 Gem Shows
We travel the world to meet the people behind your crystals, and hand pick the best to bring home with us!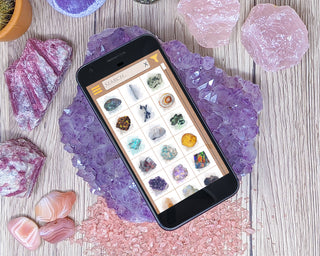 Award winning app
If you're a crystal lover then our app is a must have - with over 800,000 downloads to date across iOS and Android, and a Soul & Spirit Award for Best App, we think it's fair to say that it's the most popular one out there! With geological and metaphysical information for over 500 crystals, a catalogue for your own collection, an interactive world map for crystals, games, quick reference guides and so much more!
A little bit about how and why we do things - from Emma
Personally, I don't like buying things online, and as strange as it sounds, I had never bought a crystal online before. For this reason, when we started The CC, one of the main things that was important to me was making sure it was as easy as possible to feel comfortable in what you were going to buy.
I'm incredibly fussy, and it takes me ages to decide on anything I want to buy - what size is it going to be, what does it look like, is that the exact one I'm going to get or have you just used a stock photo? Stu on the other hand is an internet shopping convert, he won't even buy his clothes in a shop so he can try them on, he just orders them online!
Between us, I like to think we strike a fairly good balance with the website. There are some things it's just impossible for us to list individually, like tumbles, as we simply don't have enough time or storage to lay them out and photograph them individually. However my fussiness strikes again - even though we hand select them all wherever possible at suppliers, even when we get them back to the shop, we'll still go through them and pick out the best ones for orders, and any that don't make the cut from Emily go into the discount box. 
Our website pictures also aren't the snazziest, and that's on purpose. Don't get me wrong, I'm always conscious of the glorious colourful, saturated popping photos you see on IG, Etsy and FB - often the crystals look so yummy you want to eat them! However real life is rarely as beautifully polished and colourful as social media makes out, so we'd much rather go with photos that are as realistic and accurate as I can get - I much prefer to have people tell me that a crystal looks so much better in real life than to hear someone is disappointed because it's not as good as the picture implied. 
We've struggled a lot over the years with the dilemma of "free" shipping. From a sellers point of view, free shipping is never free. On a personal level, we're still suckers for an Ebay purchase that states it's got "free shipping", but all that really means is that postage is included into the cost of the item. And that's fine if all you're buying is one item, it works out the same if an item is £15 plus £3 shipping or £18 with free shipping. But as soon as you buy more than one item, you're paying shipping costs twice. Sure, some shops break it down so they build the cost of the postage into 2 or 3 items, so if you buy enough to break the "free shipping" threshold then you've paid enough extra to cover the shipping costs for them. To be honest though, that's just too much like hard work for us. We'd rather just say how much an item costs, then you can either get it shipped, or put it in a hold box and build up a parcel over time, and just pay shipping once. You pay it in one form or the other anyway, so we'd rather just be upfront about it!
We also love a good loyalty scheme, so we're very excited to be able to offer our own - sign up to earn money off and free crystals! Find out more about it here.