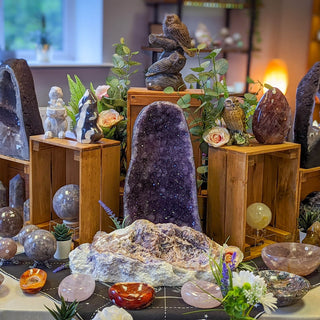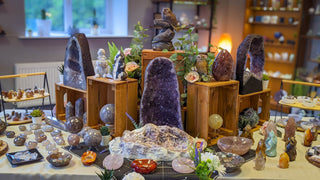 Award Winning Crystal shop
Welcome to The CC!
Established in 2017, we have one of the UKs largest selections of crystals and minerals, and travel around the world to seek out only the best! Alongside our thousands of crystals, we also offer a range of wellbeing and spiritual products.
Christmas Collection
Looking for a gift? Browse our curated collections.
Consciously Sourced Crystals
We travel to gem shows all over the world to meet the people behind the crystals and get as close to the source as possible. We are proud to have excellent relationships with many miners, family companies and suppliers who share our passion. Read more about how we source our crystals.
Education Hub
Learn more about how to spot fake & mislabelled crystals, dive into more on crystal science or explore the metaphysical side of crystals.
"I can't recommend the Citrine Circle enough. The company is honest, environmentally conscious and ethical, selling beautiful, high quality crystals at fair prices. "
"Absolutely fabulous couple, with great minerals and crystals and reasonable prices too. The amount of stock they have, is unbelievable. Check their website. And they're so friendly and always very helpful."
"I always look forward to their live shows on their Facebook group because they have the most amazing range of crystals. Couldn't recommend them highly enough!!"
Plant a Tree
We are partnered with Ecologi to support reforestation in Madagascar, a country close to our hearts. Since we started we have planted almost 7,000 trees! Read more on our Company Ethics page.
Fast Dispatch
Order before 12pm Mon - Fri and your order will usually be dispatched same day (except bank holidays)
Feeling social?
We have a wonderful online community, mostly on Facebook where we host live sales, quiz nights and more. Tuesdays at 7pm are our normal live sale nights, and Fridays at 7pm we do a live preview of all the new crystals for the website update that week, so you can get a sneak peek before they're uploaded to the website at 8:30pm. We also have a dedicated Sales Group where we offer Sunday Specials and exclusive access to new crystals.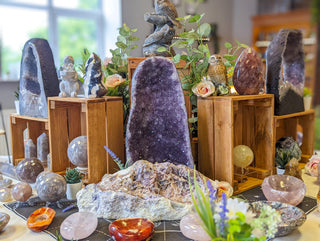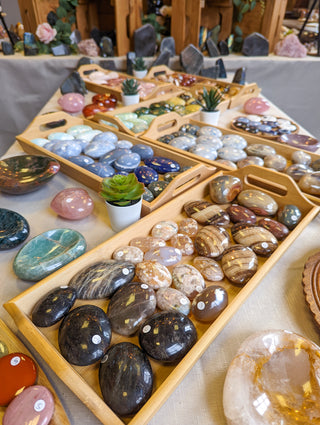 Visit our Showroom
We're only a 15 minute drive from the famous Pendle Hill!